An alpha release of RoboForm for Chromium is now available.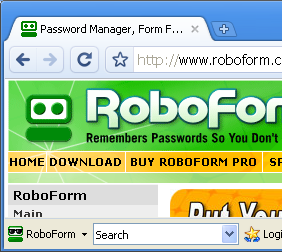 "RoboForm For Chrome / Chromium Alpha
Updated Sep. 23, 2009
Starting with version 6.9.97, RoboForm works with Chromium browser. Chromium is virtually identical to Google Chrome, but has a slightly different logo*. We released a stable alpha version of Roboform for Chrome (some companies would call it beta).
Development Context
Google Chrome does not yet have a stable and public add-on framework in the same way that Firefox does. Their add-on framework in in development. There are very few add-ons publicly available from any software provider, including us. However, our developers have been in constant communication with Google for the past few months and have done most of the leg work. When Google finalizes their public extensions framework, you can rest assured that RoboForm will work for Google Chrome within a very short time.
How Does It Work, How Will It Work
* Just like with Firefox, we developed Adapter that integrates installed Roboform into Chromium.
* This RoboForm Adapter is currently compiled into Chromium.
* So what you install is a custom version of Chromium with RoboForm Adapter embedded into it.
* Once Google/Apple add certain events that RoboForm needs (they promised to), Adapter will be separated.
* By default RoboForm toolbar appears below Chromium window.
Installation instructions.
1. Install the latest version of RoboForm
AiRoboForm-6-9-97.exe
2.79 MB
( http://www.roboform.com/dist/AiRoboForm-6-9-97.exe )
2. Uninstall previous versions of Chromium.
( http://www.roboform.com/dist/RoboFormForChromium.exe )
3. Install the Chromium + RoboForm Adapter build RoboFormForChromium.exe.
4. Run Chromium from the Desktop or Start Menu icon."
News Source: Homepage:
http://www.roboform.com/browsers.html
RoboFormForChromium.exe
9.57 MB
Mozilla SeaMonkey 2.x (2.1,...):
Add the
RoboForm
Bookmarklet
Add this link to your favorites to use the RoboForm Bookmarklet
All JavaScript Browsers using RoboForm Online
Get the
RoboForm Bookmarklet
. The RoboForm Bookmarklet allows RoboForm Online users to login to websites automatically using their existing RoboForm logins, even where RoboForm is not installed. The RoboForm Bookmarklet also works on browsers where RoboForm is not currently supported such as Opera, and Safari giving users much greater flexibility.